• Standard configuration. These Fiber Units are mounted into a hole drilled in a bracket and secured with nuts.
• The Right-angle Model prevents snagging on the cable because the cable runs along the mounting surface.


Small-Spot, Reflective (Minute Object Detection)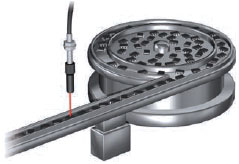 • Small-spot is ideal for detecting minute objects.
Select the Fiber Unit that is best suited for the workpiece size and installation distance.
(Refer to Reference Information for Model Selection)
• Available with a variable-spot Lens Unit to change the spot diameter without replacing the fiber. The spot diameter can
be adjusted according to the size of the workpiece by changing the withdrew length and sensing distance.
Refer to the following graph, which shows the relation between the withdrew length, focal distance, and spot diameter.